Save the dates! The Astoria-Warrenton Area Chamber of Commerce produces four annual community events.
There are events in Astoria and Warrenton year-round ranging in live music and other stage performances to festivals that draw thousands of people, educational lecture series and poetry readings by fishermen. Visit our community events calendar for a complete list of activities.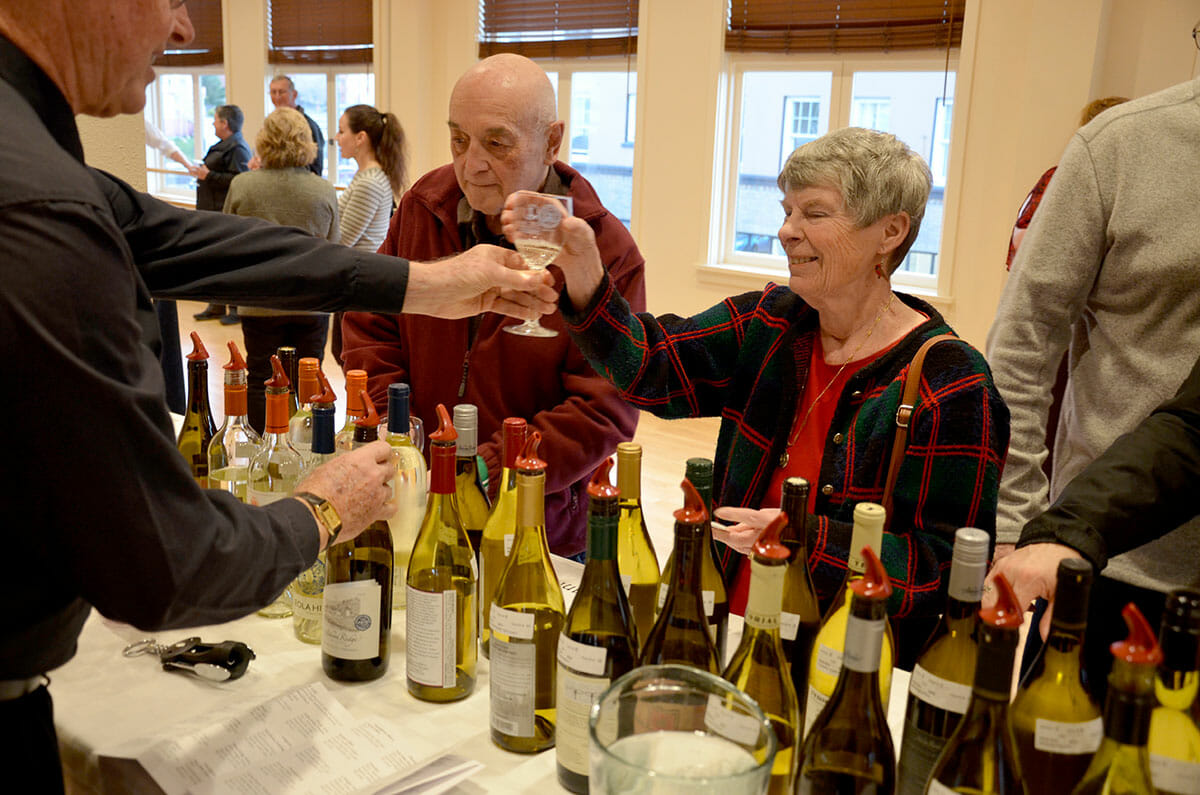 UnWined
Held annually in March.  2023's event date is Saturday, March 18 and will take place at the Liberty Theatre in the McTavish and Paulson rooms (upstairs).
Sip & savor award-winning wine during this event, which occurs immediately following the official wine competition for the Astoria Warrenton Crab, Seafood & Wine Festival. Attendees will have the opportunity to taste Oregon reds, whites, rosés, sparkling, fruits and more.
Tickets for this event go on sale in December, and are limited to 200 attendees. This is a 21 and older event. Attendees receive a souvenir UnWined glass, ten wine samples (additional samples available for purchase), complimentary heavy appetizers, live music, and you'll be the first to know the "Best of Show" winners!
CLICK HERE to register for this event.
Astoria Warrenton Crab, Seafood & Wine Festival
Held annually in April, on the last full weekend.
The communities of Astoria and Warrenton celebrate the bounty of the Pacific Ocean at the annual Astoria Warrenton Crab, Seafood and Wine Festival. This award-winning event features the authentic flavors of Oregon's North Coast, as well as trend-setting artisan producers and Oregon-based wineries. About 16,000 people and 175 vendors attend the event each year.
Upcoming Event Dates: (last full weekend of April)
April 28-30, 2023
April 26-28, 2024
Visit AstoriaCrabFest.com for more information.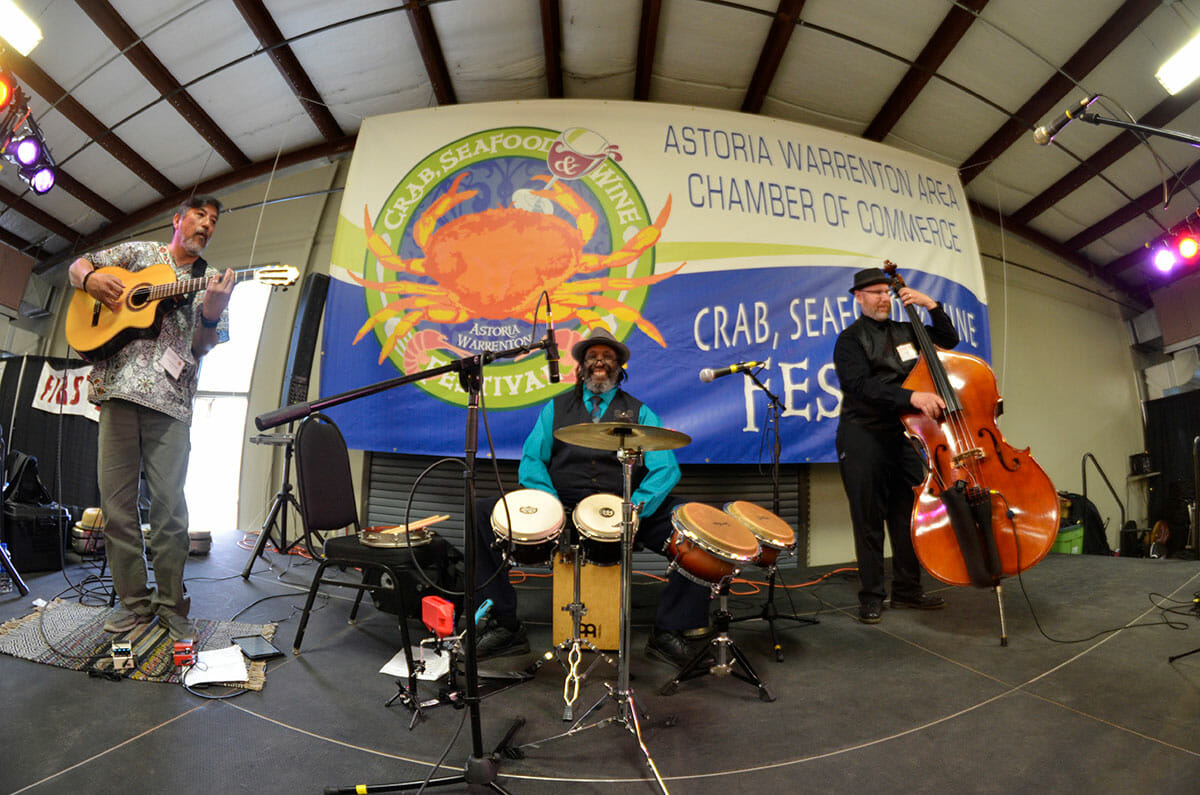 July 4
Fourth of July fun for the whole family in Astoria and Warrenton!
The Astoria-Warrenton Area Chamber of Commerce, Hyak Tongue Point, Van Dusen Beverages and nearly 20 local corporate partners have come together to produce the annual 4th of July fireworks display. They will be shot from a barge in the river near downtown Astoria to provide many vantage points.
Enjoy old-fashioned family fun in Warrenton during the day with a parade, kid's activities and barbecue.
Don't miss out on the free concert by North Coast Symphonic Band at the Liberty Theatre, typically held on July 3.
Visit this page for more information on the current year's events.
Great Columbia Crossing 10K Run/Walk
Held annually in October, typically on the second Sunday. (It can vary as we schedule not to overlap with the Portland Marathon.)
Experience the glory of the Columbia River as you trek across the Astoria-Megler Bridge during this unique opportunity to walk/run across the bridge! This 10K offers a scenic adventure on a fairly flat road with one STEEP incline to the peak of the bridge. It is the longest continuous truss bridge in North America.
Whether you're an experienced runner or looking for a family-friendly event, the Great Columbia Crossing 10K appeals to everyone. See you on the bridge!
Upcoming Event Dates:
October 8, 2023
October 13, 2024
Visit greatcolumbiacrossing.com for more information.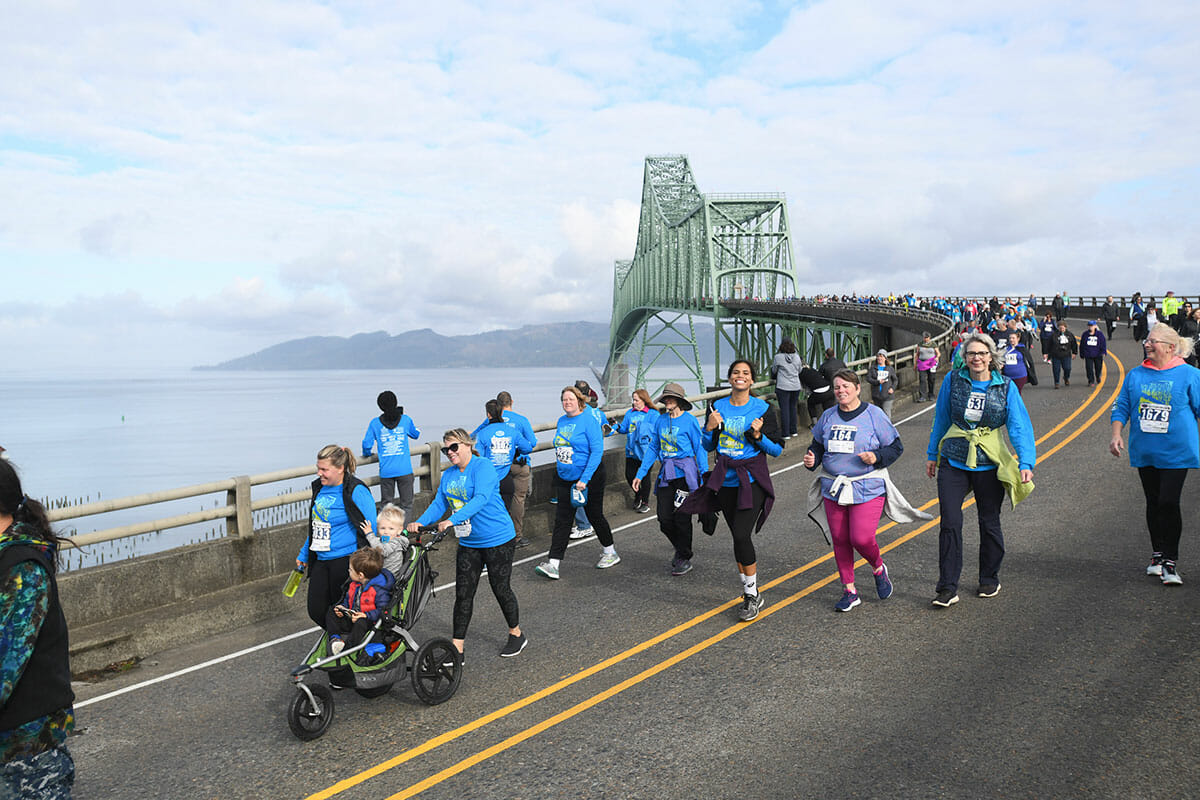 Additional Annual Events in Astoria and Warrenton
Many businesses and organizations host events in our area to honor our cultural heritage, as fundraisers for their mission, and to build community spirit. This list is meant to represent the ongoing major events that occur in or near Astoria and Warrenton. Contact the official organizer for more information through the links provided.
This is just a sampling of our annual events. For a more robust list of area events great and small, including those listed here, check out our online event calendar.
Do you host an event? Add it to our event calendar using the public submission form or login to your member dashboard for more listing options.
Check out the exhibit unveilings at participating galleries & retail locations who stay open later in downtown Astoria for this monthly event.
Astoria Sunday Market, at the heart of Astoria's Downtown, combines fresh produce, local arts & crafts, food, music and more in a lively street market atmosphere beginning Mother's Day each May and ending the second Sunday in October.
This speaker series is an opportunity to meet scholars, authors, and artists. Join the conversation and be inspired by history, people and culture.

Seasonal Activities in our
State and National Park
Year-round (events vary)
Enjoy a variety of seasonal activities like hikes led by park rangers, canoe trips, historical demonstrations and more at both Fort Stevens State Park and Lewis & Clark National Historical Park.
Check the calendar for Fort Clatsop, LCNHP here.
Check the calendar for Fort Stevens State Park here.
Independence Day Celebrations
July
Fourth of July fun for the whole family in Astoria and Warrenton! Annual events include symphonic band patriotic concert, community BBQ, car show & parade and fireworks over the Columbia.
The Astoria Open Studios Tour showcases the incredible and diverse talent of Astoria. Artists welcome visitors into their studios
Clatsop County Fair
August
Old fashioned fun with community 4-H displays and animal exhibits, concert, carnival, vendors and more.
Shanghaied In Astoria is a musical melodrama - an annual celebration of local history with a fun, humorous twist. The Astor Street Opry Co. also hosts other productions and events throughout the year.
As one of the oldest festivals west of the Rockies, the Regatta is a celebration of the Northwest's maritime history and future.
Dedicated to bringing independent filmmakers from around the world and their work to an appreciative audience. AIFF features films that are captivating; where the director offers compelling subjects, stories and cinematography.
Plaid Friday is the idea of weaving independent businesses together to create a strong fabric that celebrates small downtown businesses. Look for extra activities happening while you shop downtown this holiday season.
Holiday Events
December
Many events take place in the area to celebrate the Christmas holiday season including concerts, plum pudding and tea at the Flavel House, performances of The Nutcracker, and appearances from Santa Claus.