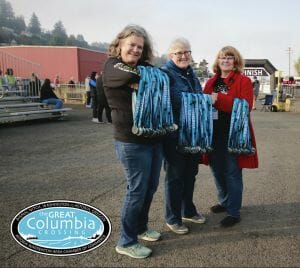 Volunteers are Rock Stars!
Thank you to ALL of our  Event Volunteers!
We look forward to you being a part of our team again.
From October 5 to 8, we have more than 100 volunteer shifts
we need to fill to ensure the event runs smoothly.
Want to help us out with this GREAT event?
2023 Volunteer Information:
Volunteer Orientation
ORIENTATION IS FOR PACKET PICK UP VOLUNTEERS ONLY.
We host a volunteer orientation for new and returning Packet Pick Up volunteers on the Wednesday prior the event. During the orientation, Chamber staff members will train you on how to use our participant check-in system and help answer any questions you might have about your volunteering role. All packet pick up volunteers MUST select an orientation time to attend on their application.
Who: New & returning Packet Pick Up volunteers
What: Volunteer Orientation
Where: Astoria-Warrenton Area Chamber of Commerce (Admin Building), 111 W. Marine Drive, Astoria
When: Wednesday, October 4 – 12:15 p.m. OR 5:15 p.m. (same information presented each time)
Why: To provide information about your volunteering shift
Volunteer Checklist
Wear comfortable shoes – Many of the volunteer roles require being on your feet some or most of the time.
Dress for the outdoors – We've seen all different kinds of weather at the Great Columbia Crossing over the years. So our motto is, be prepared! Check the forecast ahead of time and wear layers of clothing to ensure you'll be ready for cold, wet or nice weather.
Packet pick up volunteers will likely be indoors, but sometimes you may be asked to work outdoors as greeter / line manager.
Eat before your shift – There's not always time for a snack break during your volunteer shift, so fill up your tummy ahead of time.
Check in – If your shift is at the Port of Astoria on race day, please check in at the check in tent near Basin Street. Watch your email before the event for other instructions about your role, including parking tips.
Smile!
Perks of Being a Volunteer
As a thank you for giving us some of their time, each of our fantastic volunteers will receive the following:
5 Clam Bucks (check out our Clam Bucks Page to see where you can spend them in town)
Entry into our "Spoil a Volunteer" Drawing for fun prizes (one entry per shift worked)
2023 Great Columbia Crossing long-sleeved t-shirt (shirt design to be announced)
We genuinely appreciate each and every person who volunteers at the Great Columbia Crossing 10K!