What are Clam Bucks?
Clam Bucks are wooden tokens worth $1 each. They can be spent just like cash. Each in-person participant receives 5 Clam Bucks with their race bib.
In 2022, we are offering an additional 5 Clam Bucks to participants who have their packet mailed or choose to pick-up their packets on Thursday, October 6 or Friday, October 7.
When can Clam Bucks be spent?
Clam Bucks are valid for a full week, starting on the first day of race packet pickup, Thursday, October 6. The final day Clam Bucks can be used is Wednesday, October 12. (Race day is Sunday, October 9.)
Where can Clam Bucks be spent?
Clam Bucks can be spent ONLY at participating chamber member businesses.  Businesses will be given a sign that shows that they accept clam bucks, too.  Limit: 5 Clam Bucks per person, per business unless business allows otherwise.
Chamber member business accepting Clam Bucks during October 6 - 12, 2022
Great Columbia Crossing participants: please check with each business to verify their hours of operation.
Restaurants
Retail & Grocery
Attractions & Lodging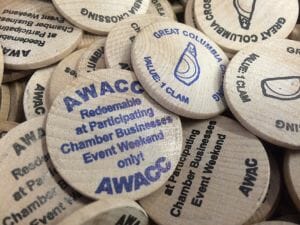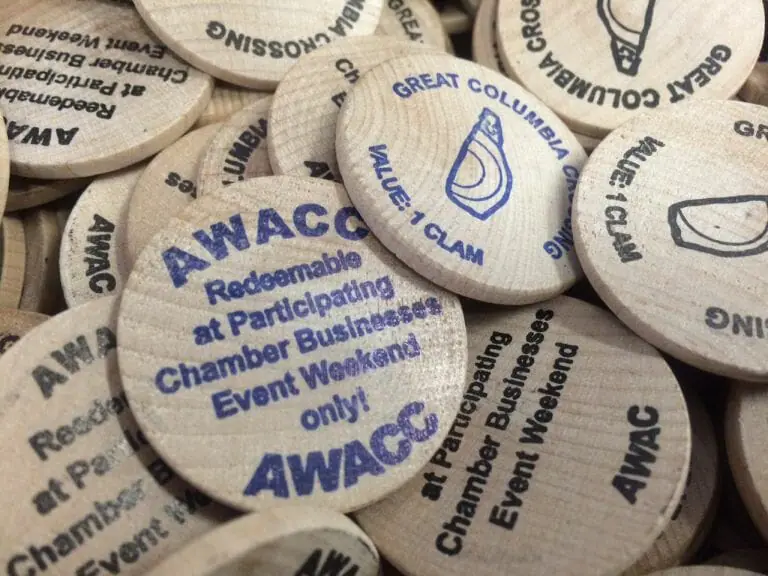 Actual wording on Clam Bucks may vary.