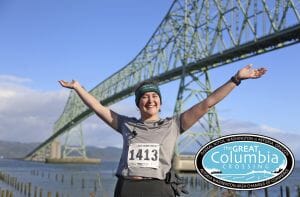 Spanning the lower Columbia River, the Astoria-Megler Bridge links the Oregon and Washington sections of U.S. 101, the Pacific Coast Highway.  Opened in 1966, the Astoria-Megler Bridge stretches 4.1 miles from Astoria, Oregon to Point Ellice, Washington and is the longest continuous truss bridge in North America.
The Astoria-Megler Bridge was the final segment of U.S. 101 to be completed, connecting Olympia, Washington to Los Angeles, California.
Ferry service was available for river crossings prior to the bridge opening. The Dismal Nitch Rest Area, Washington (our race's starting line) was the northern ferry landing.
Toll free! The cost of the project was $24 million (equivalent to $149 million in 2020 dollars) and was paid for by tolls that were removed on December 24, 1993, more than two years earlier than planned.
Annual Average Daily Traffic per Oregon Department of Transportation is reported at more than 9,000 vehicles crossing in both directions. (2019)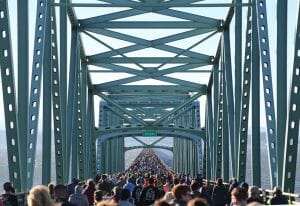 Pedestrians are only allowed to cross the Astoria-Megler Bridge once a year, during the Great Columbia Crossing 10K!  Starting at 8:30 a.m. on race day, the Astoria-Megler Bridge will be CLOSED to all vehicle traffic, to allow the race to start promptly at 8:45 a.m.  The bridge will reopen to regular traffic at 11:00 a.m. Washington Highway 401 is also closed during the start of the race to allow participants to get from starting line to the bridge.
Members of the local community should plan ahead and make alternate travel plans for race morning.  We greatly appreciate the assistance and coordination from the many agencies that provide traffic control, security, and safety for the Great Columbia Crossing.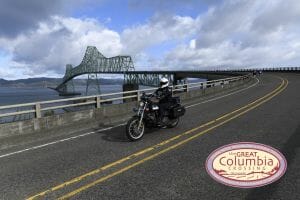 Thank you!