Building relationships with other members is the main key to your success in building your business, and participating in our networking events is a great way to get to know people and expand your network. People give to people! If you are on a committee or attend events, others are able to get to know you.
Chamber Networking Events are currently being held virtually using the online platform, Remo, that allows for fun interaction and informational content. Please RSVP for each event, by clicking the listing on our community calendar. Tune in to our past events on your schedule at our YouTube channel.
We expect to return to in person events in Summer of 2021.

Business After Hours
Second Thursday every month @ 5:30 p.m.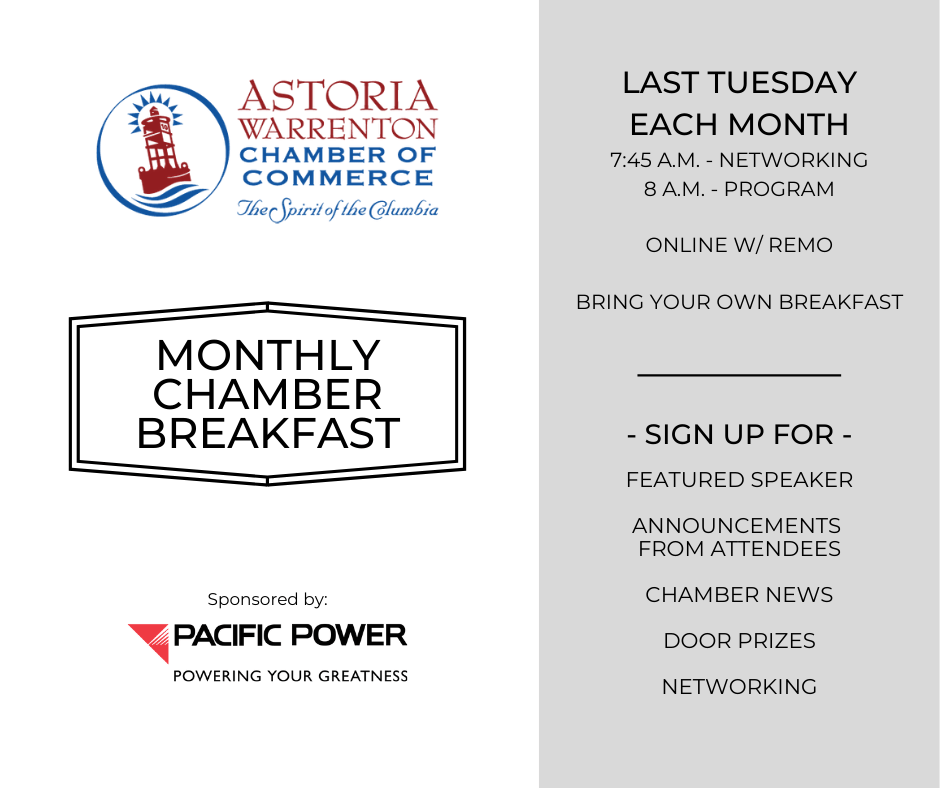 Chamber Breakfast
Last Tuesday every month @ 8:00 a.m.
Attendees and hosts may provide items to be given away as door prizes during these events for additional exposure.
Interested in Hosting a Chamber Event?
We have available dates for hosting either the Business After Hours or the Chamber Breakfast. This is a great opportunity to share your story about your business or organization with other members. Call Jerry at 503-325-6311 or email him.
How does this Virtual Event Work?
Attendees can converse in small groups at their tables before and after the presentation. Additionally, hosts and sponsors are able to make announcements, share video or other presentations with everyone in attendance.
To see what you've been missing, check out our past events on our YouTube channel, where speaker portions of our BAH and Breakfasts are posted.
When you arrive at our Breakfast or Business After Hours event, you will be placed at a random table. Participants can click open seats at different tables to move around the room & visit with others.
You can use your computer's camera and mic to video chat with other people at your table. There is also a text-based chat feature to address the entire group of attendees or only those at your current table.
When our staff, sponsors and presenters take the virtual stage, they are able to share their presentations or videos with the full audience. You can choose your view to include the speaker or to make their presentation slides full screen.
Type your questions into the chat box, so the speaker can have a conversation with everyone present. Or, join them at their table for the closing networking time.
Remo works best with a computer browser (rather than a phone or tablet). Check your system's compatibility here.