Member of the Month May 2023 – Gimre's Shoes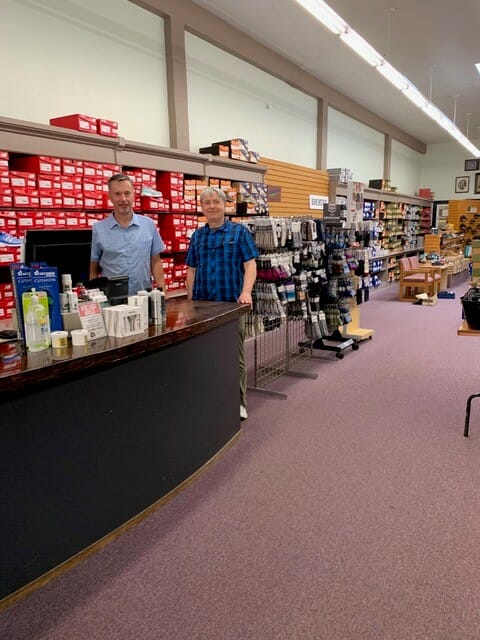 Member of the Month - May 2023
Gimre's Shoes
239 14th St., Astoria, OR 97103
(503) 325-3972 | gimresshoes.com
In 1892, Ellis Island opened for immigrants, the Pledge of Allegiance was written, and Sven Gimre opened his shoe store in Astoria. For 131 years, Gimre's Shoes has been a part of Astoria and the lower Columbia area. Sven learned the shoe-making craft while living above a shoe shop in Stavanger, Norway. In Astoria, he started by cobbling custom boots and shoes. Over the years, despite his skepticism that anyone would ever want machine made footwear, he did add these to his shop. The family business transitioned to his sons Kermit and Anders, and eventually Kermit's sons, Jon and Peter. The business has grown to include the top brands in footwear, including athletic brands such as New Balance, Hoka and Brooks, plus casual comfort and work brands including Birkenstock, Keen (including some Keens made in Portland), Dansko, Taos and many other comfortable quality brands.
After Sven opened his shop, he faced some tough times. In 1914 he lost his wife and 2 small children in a tragic accident. He had previously lost a son to drowning and a child in infancy to disease. He remarried and in 1916 he started his 2nd family with the birth of his son Kermit. During the great Astoria fire of December 1922 his store was destroyed. Sven moved to a temporary location on 13th Street. In 1924 Sven moved to his new building on 14th Street where the store continues today. (Next year we will celebrate 100 years in the same location.) Sven suffered a stroke in 1943, however his daughter Iona helped run the store until Kermit and Anders, Sven's sons, returned from WWII. They added stores in the Portland area and down the Willamette Valley to Roseburg. Eventually Kermit's sons, Jon and Peter assumed ownership of the sole remaining store in Astoria in the early '80's. Peter became the sole owner of the Astoria store in 1985 and with his retirement in 2021 he sold it back to Jon. Jon Gimre now owns the Astoria and Hillsboro Gimre's Shoe stores, plus three New Balance stores in Portland (Bridgeport Village), Bellevue and Lynnwood, WA.
We respect our role as a 'Specialty Retailer' and continuously work to up our retail game. We work with medical professionals to provide footwear, inserts and socks to help with foot and medical conditions, such as plantar fasciitis. We have a selection of work-oriented footwear for restaurant and service work, teachers, professionals, and those looking for comfort while on their feet.
Gimre's has survived all these years by adapting to changing conditions, focusing on the needs of our customers, and because of the wonderful quality of people we work with. Kermit's advice to 'Always treat customers as you would guests in your homes', has worked well for us through the ages.